Formentera has almost 20 km of beautiful white sand beaches and turquoise waters (thanks to the Posidonia seaweed; in fact Formentera has the world largest Posidonia prairie declared World Heritage Site by Unesco in 1999). Beaches are well preserved, with no big buildings. In Formentera you can practice nudism wherever you want, so all beaches are nudist/no nudist, just feel free to wear or not your bathing suit! And yes, the best to do is to explore beaches, sure you will find your personal and favourite little piece of sand.
As Formentera is a small island, you can take advantage of its size in order to find always the best beach without wind to stay. As it's common to have wind every day, just go to the beach against it (if there is north wind you should go to the south side of the island, if there is west wind you should go to the east side and so on). Please, be sure to take a look at the safe flags you will find in all beaches (if green flag no problem, if yellow be aware, but if red flag is up, bathing is completely forbidden). Sea can seem peaceful, but there are places with lots currents that can be dangerous).
Espalmador (Cala S'Alga)
Espalmador is a private island next to Formentera. Although it belongs to a catalan family, anyone can visit it. Its beautiful S'Alga beach is worth enough to do so! Even though some guide books suggest you can walk across the shallow waters that lap between Formentera and Espalmador (strait known as 'El Pas'), please do not do it. It's better and more sensible to take a boat (From La Savina, every day and at different hours) and arrive there in a secure way. In fact, at Espalmador there are more yatchs, crafts and sailing boats than anything else, many of them coming from the neighbouring island of Ibiza. In the middle of Espalmador there is a mud lake, visited by those who believe in the benefits of bud-baths. So it's almost a tradition if you visit Espalmador to take a mud-bath and then run into the clean sea water to rinse it off.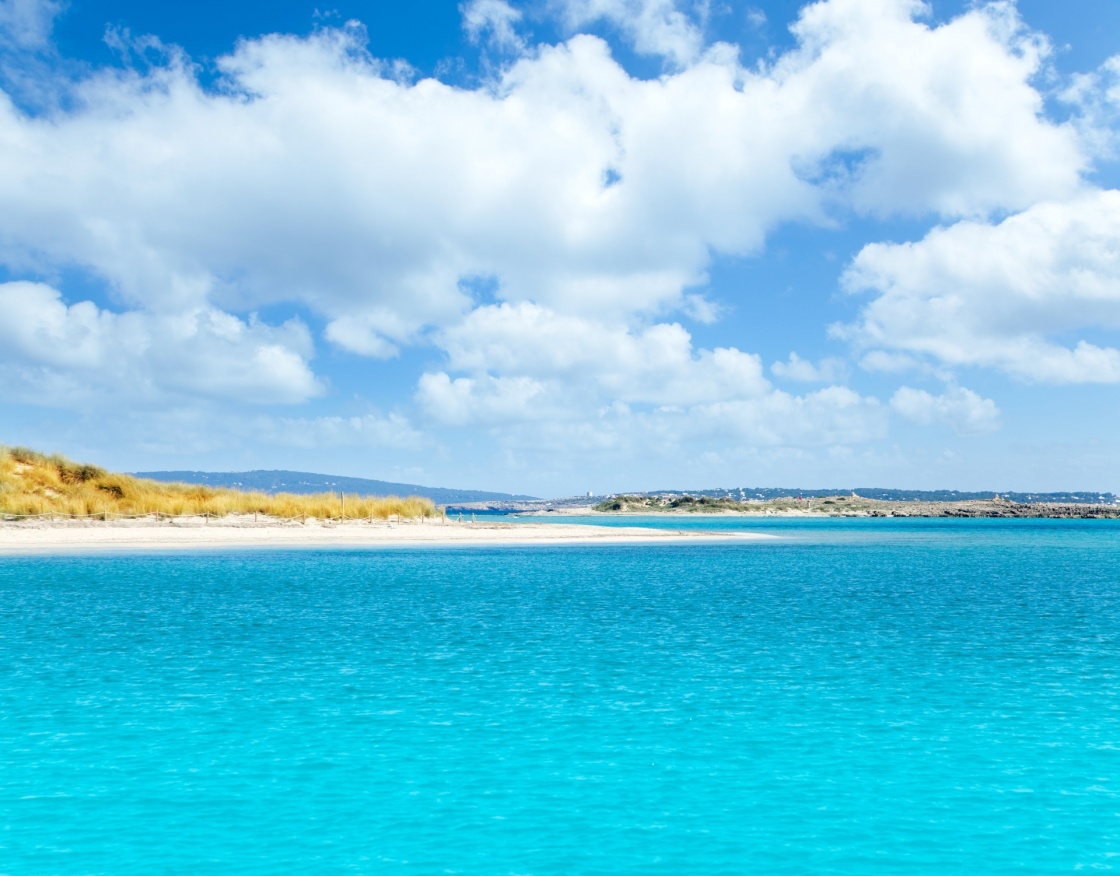 'Formentera island in Espalmador Freu Poco in es Trucadors Adolf' - holbox / Shutterstock
Illetes / Llevant
Located inside the Salines Natural Parc, to access it by car or motorbike you should pay a toll (from May to October: 4 € car, 2 € motorbikes).Illetes and Llevant occupy the Trucadors Peninsule. Illetes is to the west and Llevant is to the sea, so you could almost say this is one and the same beach with a front and reverse side. Illetes is the most famous beach in Formentera and the setting of many advertisements. That's why in August it can be extremely crowded. Although it's a virgin beach, it has several beach clubs. It's usual to have peaceful waters there, as there are several small islands that protect the coast. You can arrive easily, by car or bus, or even walking from La Savina. Llevant, the east side, is more wild and less civilized. The reason is the wind. As the ocean wind is predominant in Formentera, it's usual to have small waves and wind in Llevant, while the reverse side (Illetes) is calm and peaceful. You can arrive easily, by car or bus, or even walking from Es Pujols.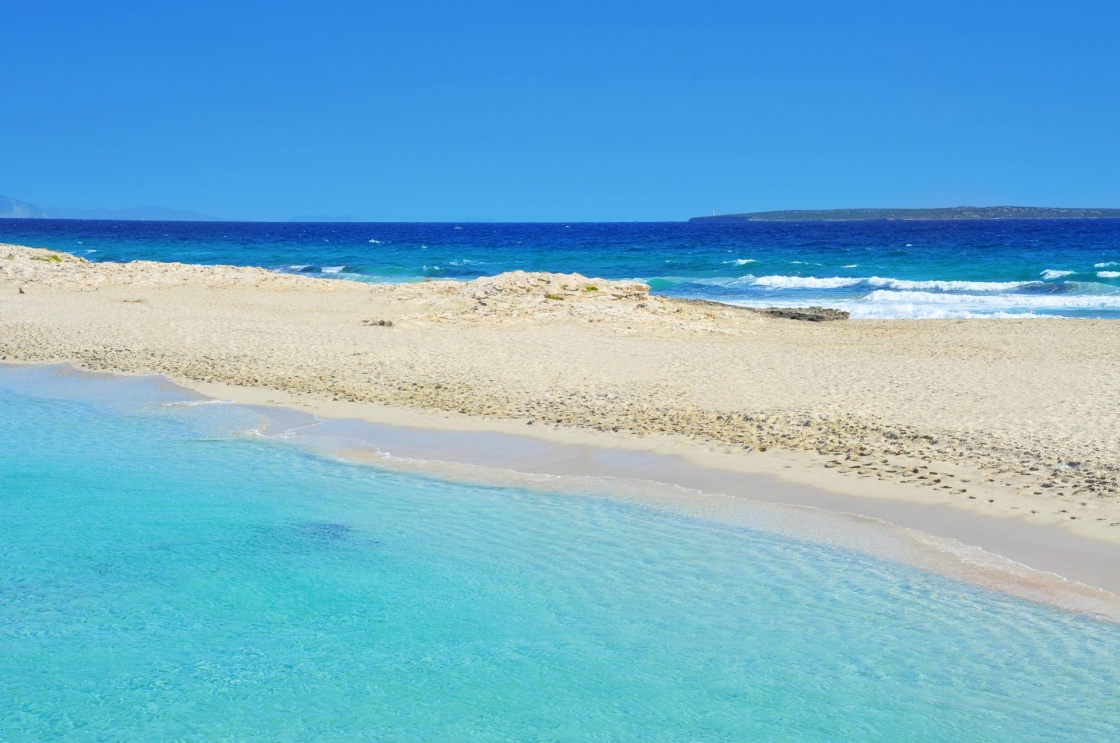 'view of Ses Illetes Beach in Formentera, Balearic Islands, Spain' - nito / Shutterstock
Migjorn
This is Formentera's longest beach (almost 8 kilometers) located at the south side of the island. It's a succession of beaches interrupted by short stretches of rocks. The beggining of Migjorn is more wild and seaweeded, while by the end you find a large sandy extension (know as Es Arenals). In Migjorn it's very important to take heed of the coast guard warnings, as sunken reefs parallel to the coast produce strong currents that can be pretty dangerous. So here with red flag NEVER, we say NEVER take a bath. Migjorn dies in EsCupinar beach and Es Caló des Mort, lovely spots of compulsory visit. It's very easy to arrive to Migjorn, just follow the sign on the right side of the main road.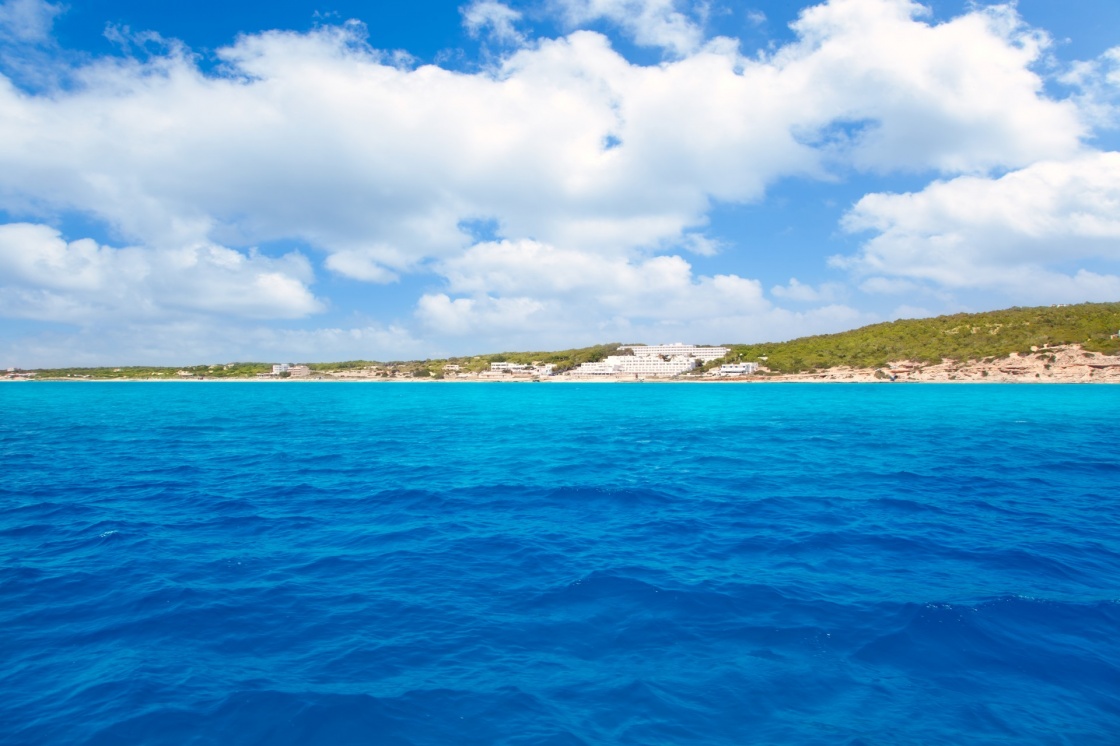 'Formentera south Els Arenals Platja de Migjorn beach in Balearic sea view' - holbox / Shutterstock
Tramuntana/ Ses Platgetes
This land of beach sits between two local fishermen places: Cala en Baster and Es Caló de Sant Agustí. This coast is often windy, as it receives the buffeting of the north wind, but it's easy to find protected corners. Just before arriving to Es Caló de Sant Agustí you will find Es Platgetes, small beaches and flat stones with beautiful sea and sandy places. As with the other beaches, it's really easy to arrive by car and bus.
Cala Saona
This beach is on the west side of the island, and it's perhaps the most colonised, thanks to the hotel built next to the beach. It's a beautiful big beach (almost 140 meters long and 120 meters wide), set up between two cliffs. It's easy to reach by car (from St. Francesc clearly signed) and you can also arrive by bus.

'view of Cala Saona Beach, the mediterranean Sea and the typical slipways and fishermen huts, called barraques, in Formentera, Balearic Islands, Spain' - nito / Shutterstock
Es Pujols
Es Pujols is almost an 'urban' beach, as it has been integrated to the Es Pujols village. It's very well protected, thanks to its islets. This beach is very very beautiful out of high season, when calm returns to the village. In high season it loses part of its charm.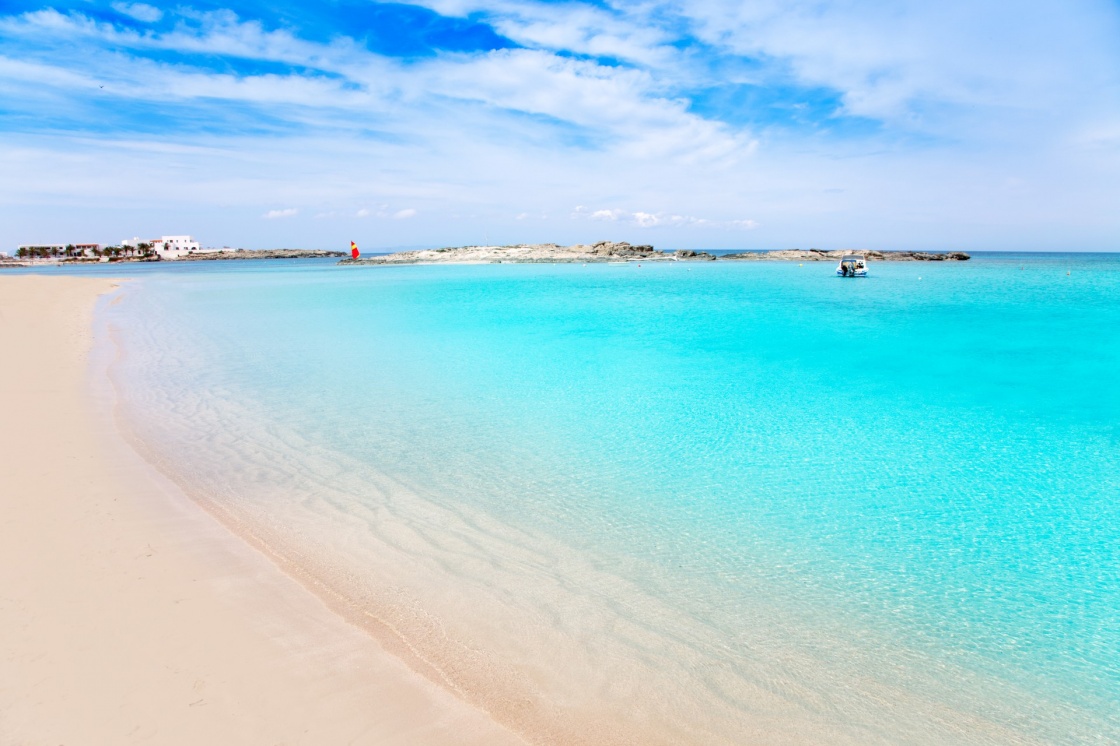 'Els Pujols Formentera white sand beach turquoise water in Balearic islands' - holbox / Shutterstock
Cavall d'en Borràs
It's the very first beginning of Illetes, near La Savina harbour. In fact you can easily walk here from La Savina.